Software constitutes a premise for a great lot of indispensable things in our lives. From personal computers, cell phones and tablets to the Internet of Things and databases – this is hardly a complete list of touch points that permeate almost every aspect of our human existence and are directly associated with software.
According to Stack Overflow, there is 1 software developer available for every 5 job openings. In addition, analysts predict a growth in demand for software development in the near future. Nowadays, almost everyone needs technical talent to create their own application or website. In 2021, IT spending on enterprise software development alone is expected to reach $517 billion, with a 10.8% growth from 2020.
Software development process is basically a sequence of steps that developers need to undertake to create a computer program. Software development life cycle, or SDLC, is a broad concept comprising the following meanings:
It is a set of phases followed during the development process. 

It is also a framework that defines the tasks performed at each stage of the software development process.
SDLC is dedicated to producing high-quality software that meets (or even better – exceeds) customer expectations, facilitates prompt completion of a project and estimates costs.
It's worth mentioning that, although, the implementation of life cycle modeling principles may differ significantly for different companies, there are standards such as ISO/IEC 12207 that provide well-defined software development and maintenance practices.
Finally, today we'd like to go into details on the software development life cycle to make sure you get a clear sense of its role and purpose. You will get acquainted with the software product development process flow, tools to be used and steps to be taken at each stage of the development process, as well as various models to choose from so that they suit your business just right. And, maybe, something else, perhaps even plenty more besides, because, you know, at JoinSoft we love to overdeliver our promises.
What Are SDLC Models?
A software development life cycle model is a conceptual framework that describes the activities that are performed at each stage of a software development project. From planning to maintenance, SDLC models provide specific guidelines to ensure proper development and functioning of the system. There is a flexibility attributed to SDLC, meaning nowadays there are several models available in the market. The list of the models comes down to: Waterfall Model, Iterative Model, Spiral Model, V-Model,  Big Bang Model, Agile Mode, RAD Model.
Software Development Stages
SDLC consists of six steps that you can find outlined in the following diagram:
In general, SDLC is a closed-loop cycle in which each all stages are interconnected, meaning each stage directly affects the subsequent flow and gives directions for the future. To ensure the coherence of your development process, all six steps should be thoroughly performed so that they influence each other effectively and consistently.
The first three stages try to answer the software product-related questions, while the last three are optimized to achieve actual results.
Requirement analysis

answers the question "What are the problems that need solutions?"

Planning

answers the question "What do we want to do?"

Product architecture

answers the question "How will we achieve our goals?"

Software development

regulates the product development process: let's build.

Testing

ensures quality product performance: let's make sure that what we've built works.

Deployment

supports the use of the final product: let's take the solution we've created and make use of it.
Now that the overall flow is clear, this brings us to our favourite part – details!
Stage 1: Planning and analysis
Planning and analysis is literally the most important and fundamental step in SDLC. It includes an assessment of all resource requirements and development costs attributed to the development of the new system. The team will need to define the scope of the project, understand what they are going to build and why. In other terms, this is when the idea is born.
Stage 2: Defining requirements
At this stage, the "idea" takes a more meaningful and defined shape. After processing the information collected at the previous stage, analysts detail it and transform into technical requirements for the system using the SRS (Software Requirements Specification) document.
This step is usually performed by senior team members and requires participation of all relevant internal and external stakeholders, namely their feedback and support.
In a nutshell, this is a simple example of a well-done requirements definition:
This stage also encompasses the following activities:
Definition of the quality requirements;

Risk analysis;

Creation of V&V Plans and Test Plans;

Definition of the Software Acceptance Criteria.
Stage 3: Product architecture
At the product architecture phase, designers define the technologies used, tools, workflows, relationships between different parts of the project, database structures, data flows, etc. Basically, this is when the "sketch" of the future software product is created.
SRS, discussed previously, is a reference document for the designers to lean on while coming up with a proposal for product design. 
Usually, architects sketch several versions of design to choose from and lay them out in a document abbreviated as DDS (Design Document Specification). This document contains a description of what needs to be done to build a software product and how it should be technically implemented.
Stage 4: Building or developing the product
Now that the developers have SRS and DDS on hands they are fully equipped to start building a product: code the system and its user interface.
Stage 5: Testing
Developers have done their job – we have a ready-made product. Finally! Time to launch? Not yet, since testing is crucial. This stage includes checking the overall performance of the system, as well as the new system's interaction with other software that the client may be using. The purpose is to identify and fix bugs until the product reaches the required quality standards. 
Stage 6: Deployment in the market and maintenance
Bada-bing, your product is ready to be released. Deployment stage is where you transfer the software you developed from the test environment to the actual market. 
Of course, for the product to be successful it needs to be up to date and work properly; maintenance joins the game. It can be represented as a repeating loop: "Define New Requirements" →  "Develop" →  "Test" →  "Deploy".
This is the longest stage of software development, and its importance cannot be overestimated. Either plan for proper maintenance, or give your product a "death sentence" at once. That's just how it goes, folks.
JoinSoft provides high-quality Custom Software Development Services that suit your business just right. Click on the button to learn more.
Alright, let's move to the next important part of the software development and discuss the different life cycle models in software engineering.
Waterfall Model Software Development Plan
The Waterfall model is a classic and oldest SDLC model. It is widely known, clear, and often used by developers. 
Waterfall Model Design
This model is linear-sequential in its essence. Basically, software development activities are divided into different phases, where the outcome of a previous phase is an input for a subsequent one. Also, what's important, the phases in this model do not overlap.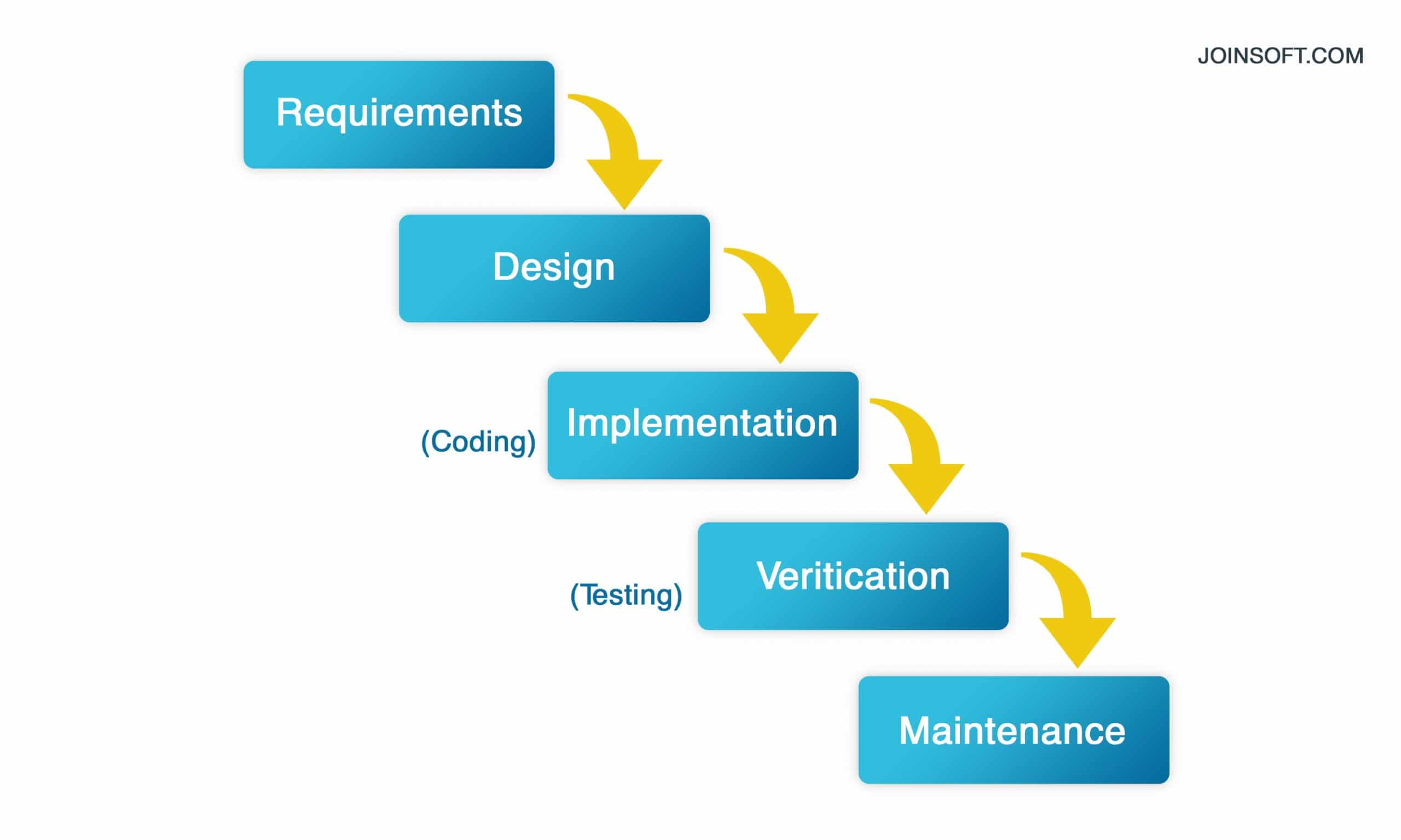 The phases in this model are:
Requirement gathering and analysis – The requirements for the product are collected and deemed for feasibility. Afterwards, they are documented in a separate worksheet.
System design – The "skeleton" of the system is created based on the requirements specifications.
Implementation – The system is coded and tested by units.
Integration and testing – The units coded and tested in the previous phase are integrated into a system. 
Verification – The system is tested upon the requirements of a client by means of QA, QC & testing tools.
Maintenance – The released product is supported and possible bugs that may appear after launch are eliminated. 
Note, that each step is initiated only after the previous one is completed, and no overlaps are allowed. That is why this set of subsequent development phases is referred to as a Waterfall model.
Waterfall Model Application
The waterfall model is most suitable if the following statements are those describing your project:
Project requirements are clear and documented;

The product is well-defined;

The technology is understood and stable;

There is no ambiguity attributed to the project;

Sufficient resources are available for product development and support;

The SDLC is short.
Iterative Model Software Development Phases
Iterative model stands for the development of software, which is carried out in small stages, during which the intermediate results obtained are analyzed, new requirements are put forward and any malfunctions that may have occurred at previous stages are corrected.
Iterative Model Design
The software product development process flow in this case is split into a sequence of iterations, each of which, in fact, constitutes a separate project that include all software development cycle stages, from planning and requirement analysis to actual development, testing, and launch.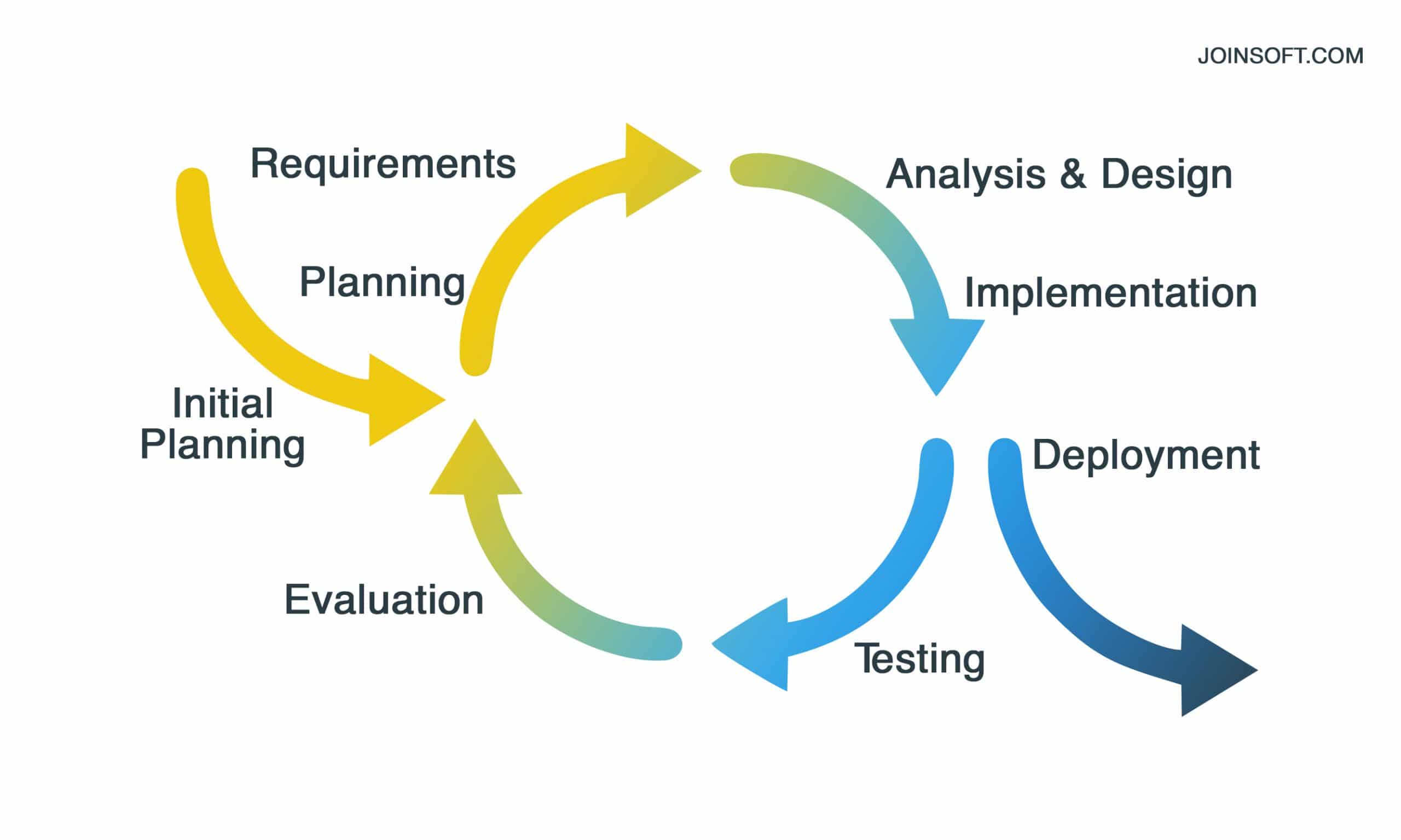 One iteration results in the development of one version or part of the project. As a rule, the goal of each iteration is to obtain a software version that includes both new or revised features implemented during the current iteration, as well as the functionality of all previous iterations. The final iteration creates a version that contains all the required functionality of the product.
Iterative Model Application
The Iterative model applies in the following situations:
Major requirements for the system are clear and well-defined; however, alterations to the system, i.e. product improvements, additional features, may take place at a later time;

The budget and terms required for the implementation of the final version are usually not initially set;

A new technology is used;

Some features and goals of the product are associated with a high level of risk.
Spiral Model System Development Process
The Spiral model emphases the risk analysis. It works well for critical business tasks when failure is not  with the company's activities, in the context of the release of new product lines, if necessary, research and practical testing.
Spiral Model Design
The Spiral model is divided into 4 stages. During the development process, a product repeatedly passes through all these stages in a series of iterations referred to as Spirals. The amount of work aggregates on each subsequent iteration. At the same time, each spiral results in a more detailed prototype. The development process is deemed as completed when the final spiral meets the predetermined
requirements and client's expectations.
Have a look at these 4 development phases:
Identification
This stage begins with the collection of business needs in a basic spiral. In the following spirals, as the product matures in this phase, the system requirements, subsystem requirements and unit requirements are identified.
This stage involves much communication between an analyst and a customer with the purpose of proper requirement identification.  
Design
The design phase includes design of spirals beginning from the baseline with further aggregation of design features.
Construct Or Building
The construction phase is essentially the development of a software product at every spiral. In case of a basic spiral, for which the design is being developed, a POC (Proof of Concept) is created and presented for a client's consideration.
Evaluation And Risk Analysis
Then in the following spirals with clearer requirements and a more detailed design the working model of the software called build with version number is created. These builds are also sent to a client for feedback.
Spiral Model Application
The Spiral model is a perfect option for your project if:
You are on a tight budget and risk evaluation is important;

Your project is associated with a medium to high risk;

You don't have a time constraint;

Requirements are complex and create a necessity of thorough examination to get clarity;

New product line should be released in between phases for sufficient customer feedback;

The product is prone to significant alterations during the development process.
V-Model Software Development Guide
The V-model is characterised by the step-by-step structure, just like the Waterfall model. In fact, it is a more sophisticated version of the Waterfall model. The V-model is suitable for systems in which trouble-free operation is especially important.
V-model Design Software Product Development Process
Here, at each stage, the current process is monitored to make sure progressing to the next level is possible. As you can see on the image below, there are Verification phases on the left side, and Validation phases – on the right.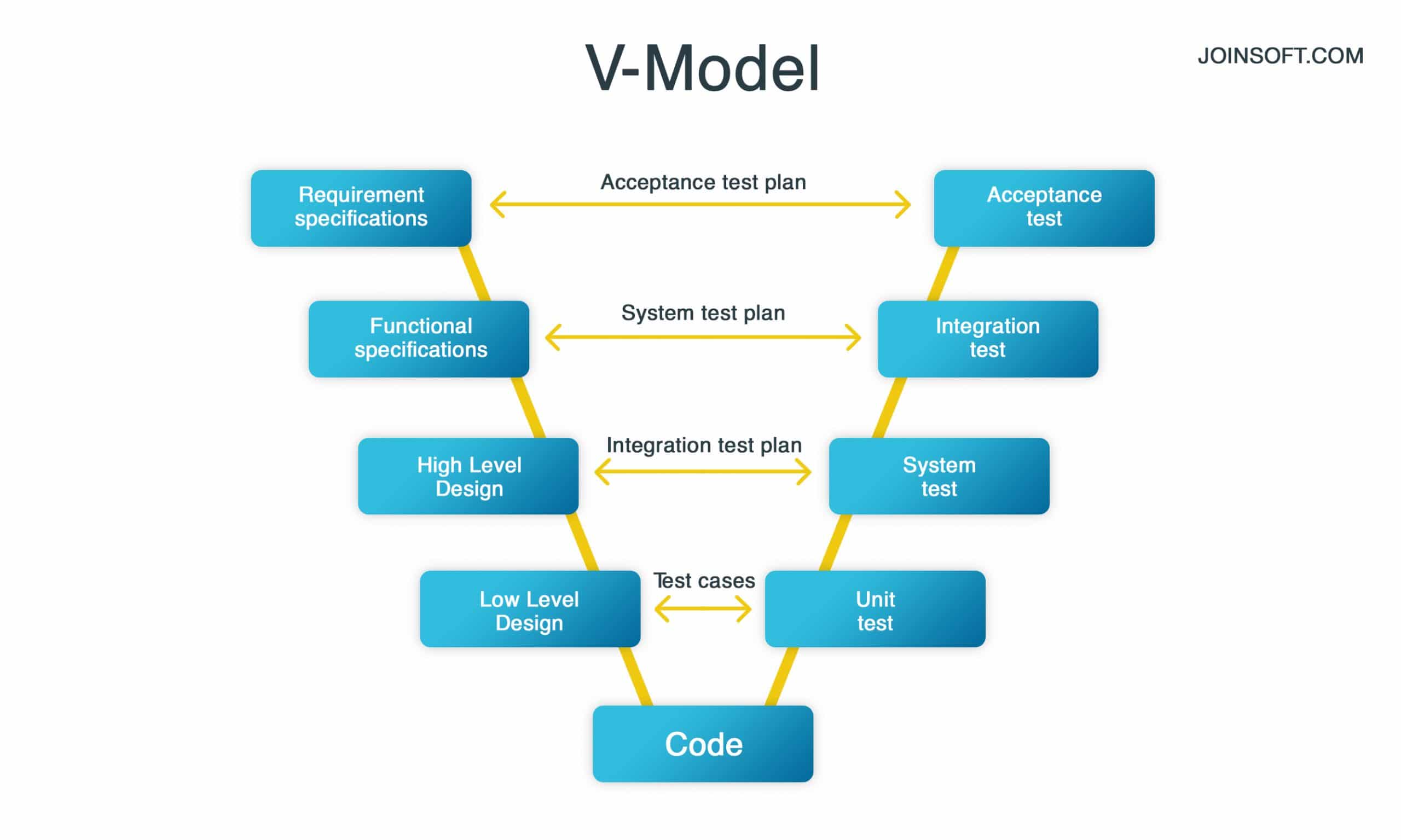 V-model Software Development Verification Phases
The V-models verification phases are the following:
Business Requirement Analysis
This is the phase in which product requirements are considered from the client's perspective. For that instance, it involves close communication with the client to track his expectations and define precise requirement guidelines. During this phase, the planning of the acceptance test is carried out as business requirements can be used as an input for the acceptance test.
System Design
Now when the product requirements are clearly formulated, the design stage begins. System engineers figure out the capabilities and methods by which users' requirements can be realized. If any of the requirements are not feasible, the user is informed of the problem. A solution has been found and the user requirements document is being revised accordingly. Also, the test plan is prepared at this stage, which leaves more time for the actual test deployment in the future.
Architectural Design
This stage is also referred to as a High-Level Design, since this is exactly where the architecture of the product is thought over and created. In most cases, more than one technical approach is proposed and the final decision is made based on technical and financial feasibility. The system design is further divided into modules that are responsible for different functions. In addition, the integration testing takes place in this particular phase.
Module Design
The module design phase can also be called low level design. The system is divided into smaller blocks or modules, and each of them is explained in such a way that the programmer can immediately begin coding. 
V-model Software Development Validation Phases
In this model, testing begins at the requirements definition stage, and for each subsequent stage, its own level of test coverage is provided.
Module Testing
Module testing is performed during the module design phase. This kind of testing is there to help detect and eliminate any bugs or backdrops early, namely at the code or module level. However, it doesn't exclude the possibility of malfunctions of a more mature product.
Integration Testing
After the unit testing is done, integration testing comes in place. Integration testing is applied to the integrated system. Usually, it is performed at the architectural design stage. This test basically checks the connection of the modules with each other.
System Testing
System testing applies to the entire application with its full functionality. It verifies the functional and non-functional requirements of the developed application.
User Acceptance Testing
User acceptance testing (UAT) is performed in a user environment that resembles a production environment. UAT verifies that the delivered system meets the user's expectations and is ready for use in the real world.
V-model Application
The V-model should be applied to your project when:
Thorough product testing is required;

You have a small to medium project;

Requirements are clearly defined and fixed;

The technology is stable;

The project is short.
JoinSoft can help you boost your business by equipping it with a high-quality software solution. We love seeing our clients prosper. Become one of them!
Big Bang Model Software Product Development Stages
The Big Bang model is a rather specific SDLC methodology. This model does not require any previous planning, organization or a well-defined procedure. It is virtually a software development "on the fly". It comes into being when there is an urgent need for the product, and little to no time for preparation. It is rather common for this kind of development that team members involved are not completely familiar with the product requirements, and so are the clients. 
This model should only be deployed with very few members in the team, so that they could have more or less healthy day-to-day communication, since all of the details within this model are discussed "on the go". This is a perfect go to option when requirements are not clearly set and a deadline is not specified.
Agile Software Development Process Model in Software Engineering
Being agile basically means being adaptive. Using this methodology, teams can promptly adapt to changes in the market and manage any limited resources available to them in a particular period of time. In addition, the Agile model helps reduce or eliminate wasteful and pointless activities.
What Is an Agile Model?
Agile  is a system of ideas and principles of "flexible" project management. The popular Scrum, Kanban and other methods were developed based on agile methodology. The key principle is development through short iterations, at the end of each of which the client receives a working code or product.
In fact, agile software development not only eliminates odd actions, but also deliberately avoids strict prohibitions, meaning it is open for alterations if they are beneficial for the product. 
The Agile SDLC model is based on two approaches: iterative and incremental. 
On the one hand, incremental development means you build something unit by unit. Software is developed in small chunks, with functionality added at each step. This approach allows you to get your minimum viable product (MVP) early on. However, there is one problem – the product will not be ready until the last part of the functionality is added.
On the other hand, iterative product development means creating something through refinements. You create a draft version of the product that contains all the functionality that has been planned, and then you may add functions and clarify various specifications if they prove to potentially improve the product. 
Agile And Traditional SDLC Models
Sot the difference between Agile and traditional models in the table:
| | |
| --- | --- |
| Agile Models | Traditional Models |
| Use adaptive methods | Use predictive methods |
| No detailed planning is required and any relevant alterations are welcomed | Requirement analysis and planning provide for strict control over any alteration proposal |
| A product is tested very frequently throughout iterations | A product is exposed to a control testing after the development and before release |
| Customer interaction is a key baseline | Documented requirements are a key baseline |
RAD Software Product Development Strategy
RAD stands for a Rapid Application Development model that focuses on speed and ease of programming. 
The three pillars of the RAD are the development speed, code quality, and low cost. And, yes, it really does its job.
Rad Model Design
The RAD model divides the analysis, design, build, and test phases into a sequence of short iterative development cycles. These cycles are the following:
Business Modelling
Here the information flow between business channels is modeled. During this cycle, the following questions should be answered: What information drives the business process? What information is generated? Who generates it? Where does the information apply? Who is processing it?
Data Modelling
The information flow defined during the business modeling cycle is reflected as a set of data objects that are required to support the business. The characteristics (properties, attributes) of each object are identified, the relationships between the objects are determined.
Process Modelling
Data object transformations are defined to enable the implementation of business functions. Processing descriptions are created for adding, modifying, deleting, finding or correcting data objects.
Application Generation
It is supposed that the methods specific for the 4th generation programming languages should be used. Instead of building software using 3rd generation programming languages, the RAD process works with reusable software components or creates reusable components. Automation utilities are used to support the design.
Testing And Turnover
Since reusable components are used, many software elements have already been tested. This reduces testing time (although all new items must be tested).
Software Prototype IT Development Process
When prototyping is deployed, the development team approves a number of requirements and design elements to create several mockups and prototypes of the finished software. Prototyping is used to avoid the waste of time and money attributed to the product development, and create a model resembling the potential finished product. Software prototyping also helps find mistakes having been made at the planning phase.
The advantages of the prototyping are:
The client and the developer can ensure that the software conforms to development specifications;

Designers and developers can get feedback from users in the early stages of a project;

The project manager can estimate the time for development to define deadlines;

Enhanced flexibility of the product;

Reduced net cost (by 100-150%).
Although the advantages of software prototyping make it quite attractive, some of the disadvantages should also be regarded:
Developers can overestimate the importance of the prototype and put the quality of the final product at risk. For example, they may use ineffective algorithms or inappropriate programming languages that have performed well when developing a prototype, but are not suitable for the final product;

Often more than one prototype has to be created, which requires additional cash investment.
Steps in Software Development Life Cycle by JoinSoft
JoinSoft is a full-cycle software development company that makes a difference. We care about our clients and deliver what we promise. At JoinSoft we make sure to provide Custom Software Development services that do not break the bank. It's all about balance between cost, time and quality. 
This is what you get cooperating with JoinSoft:
A dedicated team of professionals each having 5+ years of experience in the field;

Cutting-edge technologies for software development;

Personalized approach to suit you time & money considerations;

Weekly reports for you to control the process and constant support to answer all of your questions;

Flexible contract work and various cooperation practices.
We love what we do, but even more we love seeing that our clients love we do for them. Hope to see you on the other side!
Contact our managers to discuss your project. They will advise you on a perfect software solution for your business and calculate the quote for your product.
Software Development Process Models Comparison
Have a look at the table to learn about differences between different SDLC models:
Model
Application

Waterfall Model

The requirements are known, understood and fixed. There are no conflicting requirements.

In small to medium-sized projects.

Iterative Model

The basic requirements for the system are clearly defined and understood. At the same time, some details can be improved over time.

Early market launch is required.

There are several risky features or goals.

Spiral Model

You are on a tight budget and risk evaluation is important;

No time constraint;

Requirements are complex.

The product is prone to significant alterations during the development process.

V-Model

Thorough testing of the product is required.

For small and medium projects where the requirements are clearly defined and fixed.

Engineers with the necessary qualifications, especially testers, are available.

Big Bang Model

There is an urgent need for the product.

Little to no time for preparation.

The requirements and deadlines are not clearly set.

Your developer team consists of 1-2 specialists.

Agile Model

User needs are constantly changing in a dynamic business.

Agile changes are implemented at a lower cost due to high increment frequency.

Little planning is enough to start a project.

RAD Model

There are highly qualified and specialized architects available.

The project budget is large to afford these specialists, along with the cost of ready-made automated assembly tools.

There is confident knowledge of the target business.

There is a need for urgent production of the system within 2-3 months.
Final Thoughts About Software Development Life Cycle Phases
Well-well-well, here you are, fully equipped with a clear understanding of the stages of software development, SDLC models, their characteristics and scopes of application. Choosing the right development model makes your project one step closer to success. That's why it's so important to cooperate with a good developer that values your time and budget. Make sure to consider JoinSoft as a fit for your software business solution. Learn more about our Custom Software Development services.