By 2021 in the U.S. alone, mobile e-commerce revenues will amount to 53,9% of all online sales. That is an annual increase of 10% compared to the current year projections. Perhaps unsurprisingly, m-commerce sales reached historic highs of 2.9 billion USD and 3.1 billion USD on Black Friday and after Thanksgiving respectively last year. 
Do you have your retail business? How often do you contemplate and brainstorm with your team on how to get more traction? Where can you find more users that come directly to your store? Perhaps, you're looking in all the wrong places and have not found your spot in the sun yet. Of course, you must have heard of m-commerce and retail mobile apps, but you are not yet convinced of their benefits. 
You might be sure that your e-commerce website does a good job. But you can boost online sales if you consider retail business app development. Therefore, think about mobile. If you don't have a mobile-optimized app, that is the right time to get one. Why? 
There are many benefits to having your store smartphone screen-friendly. In this post, you will discover how an app can help your business perform better and bring larger returns to compensate for all the efforts undertaken. Beyond that, we will explore the main benefits of mobile apps for retail stores together. Finally, you will discover the essential functionality of an app. Ready?
How Retail Mobile App Can Help Your Business and Why You Need It
With a rapidly growing niche, having an online business optimized for mobile is a necessity. You are likely to be overlooking some potential traffic volumes and key target audiences that can improve your margins. But how? There are multiple benefits of mobile apps for a retail business.
Imagine. You can connect to untapped markets. You can build loyalty among a broader audience if you tailor your online operations to mobile. Your store could offer a great shopper experience through an easy-to-use, sleek app.
Then, your customers are likely to come for more products. When a prospect is searching for something online, he wants to compare prices. To top it off, he might want to check reviews on the go. It's convenient and quick, plus he can kill some time doing it during, e.g., his commute.
Back in the day, buyers on the Internet were already spending 1 out of 4 dollars on their smartphones. They would shop for toys, games, and music, and movies among other products.
Source: Statista
With no regard to the niche, customized mobile apps for a retail business can bring more leads on board. These robust applications are additions that generate better results and bring more $$ to your online store. So good news: active global smartphone users will help you broaden business horizons and harness the perks of a mobile platform.
9 Key Benefits of Retail Business App Development
Now let's jump right into the benefits of retail business app development. So what can you expect?
Increased Brand Awareness
A robust brand-oriented e-commerce app does not just easy shopping but offers another way to build up your brand. First of all, the logo of your store is a continual reminder on the shoppers' smartphone screens. With just a few taps, you can present your brand in a good light and give your clients all they wished for at their fingertips.
Advanced Consumer Analytics
Consumer data and behavioral trends play a central role in defining the next steps and tailoring your strategy to the needs of your target audience. The idea is to use gathered from mobile shopping insights and transform them into actionable points. The benefits of mobile apps for a small retail business are easy customer data gathering and complex analytics made it simple to turn an online store into a more customer-centric.
Rewards and Loyalty Programs
When they download your app, shoppers can access discounts, enjoy early bird offers, and collect rewards. They can do so when sending a referral to a friend. It sounds simple. And it is. Doubling your marketing efforts becomes easy. Growing your customer base by word of mouth is among the benefits of a retail app for business, too.
Pop-up Notifications
Quick push messages and notifications are a great way to pitch without stealing too much of mobile app users' time. Lengthy emails might not work – just because a customer might not have time to read them or even open, for that matter. But a quick smartphone notification is an instant attention-getter that might help you make another sale.
Easy Payment Integration
These days, when we barely put our gadgets down during the day or spend some time off the computer, pay with a smartphone, and use e-wallets has become the norm. Secure mobile payments are no longer luxury but a standard to keep up with (if you want your biz to prosper and not fade shortly after its launch you were so happy about). With a mobile retail app customers can shop from anywhere anytime and make transactions in a blink of an eye. 
Superior User Experience
Creating a better experience for online shoppers is one of the most essential benefits of retail mobile applications. Google's study notes that consumers tend to not only search the web but buy on their phones when their mobile retail journeys are smooth. Do not forget about QR-Code Scanner, one can get to study the product information before purchasing it.
Mighty Beacons 
The use of Beacon Technology is one of the proximity marketing tricks that pays off. What are Beacons anyway? They are small devices that a store places in its front to connect with shoppers once they enter. Using this technology, stores have a powerful toolkit to reach their target audience and send to their phones location-specific, tailored ads and promotions.
Sales Assistance and Support
The majority of customers would rather go for support texting on their smartphones or your support team calling them up? Calls are to check on your friends, family, or call an ambulance. Period. The rest can be done on mobile by texting. This is a regular thing for so many users these days. Therefore, a mobile app can offer quick support to shoppers that can ask questions or get the necessary assistance. 
10 Must-Have Features in a Retail Mobile App
By now, you'll be wondering what features of retail mobile apps are vital for your business to thrive.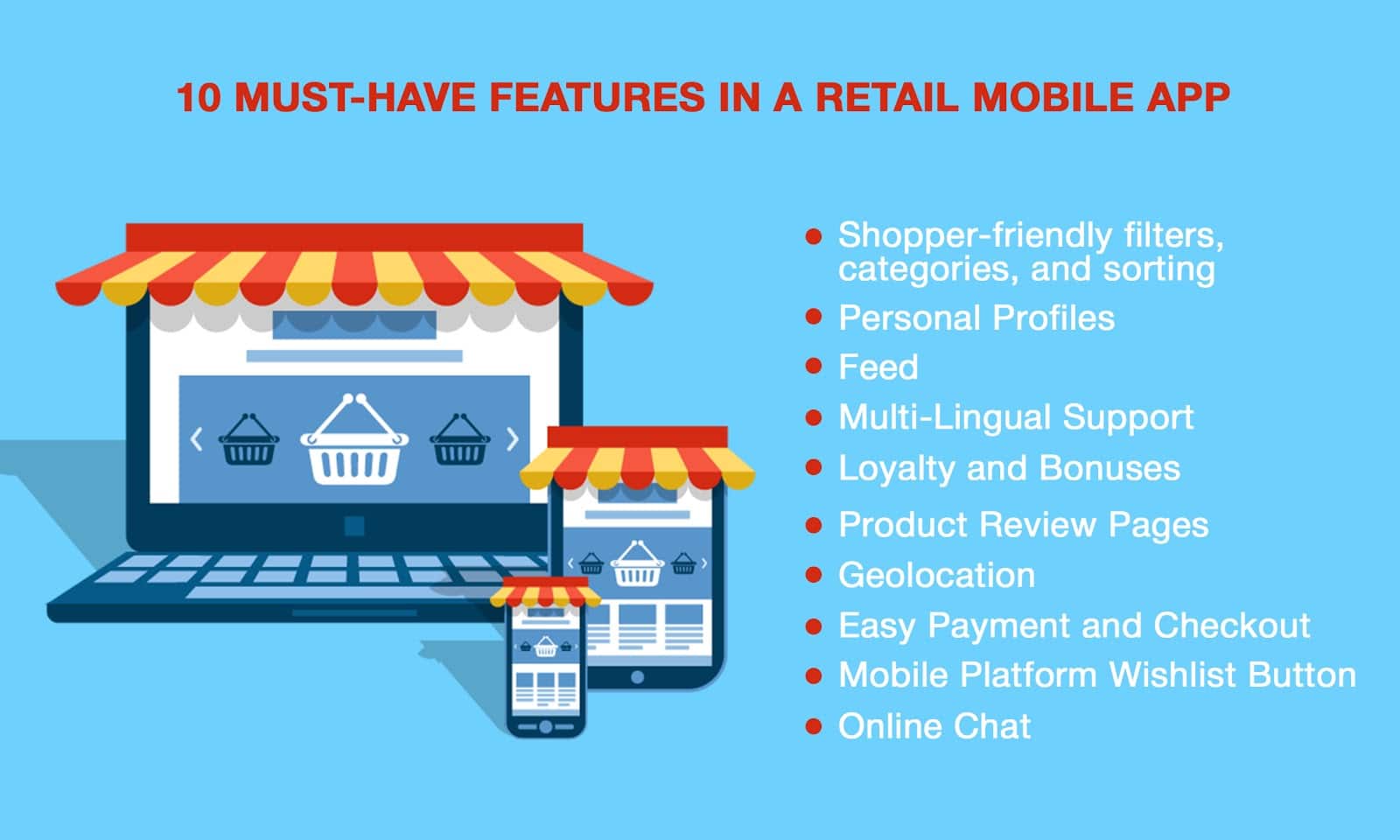 Shopper-friendly filters, categories, and sorting 
Of course, you have dozens or maybe even hundreds of SKUs. You want to show it all. But it's so easy for customers to get that shopping fatigue especially when their first few attempts to find exactly what they're looking for failed. 
Make their life easier. Add on those filters and other retail app features necessary for a bumps-free smooth customer journey. The search for the next thing to splurge on should be smart and effortless.
On top of that, create a sorting feature with a budget in mind, are trends (maybe your next customer is a real fashionista). Here's a big idea: user experience in your mobile application should be effortless. Once your customers have troubles with the app, they will think twice before returning. 
Personal Profiles
With mobile apps, profiles help shoppers to change their personal information easily. What's more, they offer an opportunity to take part in loyalty programs. Loyal customers get discounts and are the first to learn about special offers.
But you know what else? Nowadays, there is so much info to remember. 
Your customers might be reluctant to bear in mind yet another set of login details. How can you resolve this? Offer a social login. This way, there won't be any drag or resistance. Using social network credentials to create a profile is a matter of a few seconds. 
Feed
A retail app feed is a place to spread a word about your latest news. What's more, you can share info on ongoing promotions and the opening of new locations. If the information here is accurate and up-to-date, it can be a shoppers' guide at your store. Personalization of mobile app content for different kinds of users is a good idea if you want to have a competitive edge.
Furthermore, you can personalize content depending on customer preferences and buying patterns. For example, you figured from the information you collected earlier that a customer has a pet. He will surely appreciate you showing the details on pet food and products for his animal companion. 
Multi-Lingual Support
Hablas español? If not yet, then you might not get many customers from Latin America, for example. The latter is a vast emerging market. The same story is with China, that's a booming market. The Chinese do use special translation apps when traveling and shopping in-store. But having that feature integrated into your app is an entirely different story and, as a result, level of user experience. 
While localization might not be one of the core retail mobile app features, it makes a substantial difference. Why do we say this? Your app should speak as many languages as you can afford with your budget and the time you allocate to build your app. This mobile add-on should assist customers from around the world if you're determined about going global and bringing your brand to every or at least many corners of the world. 
Loyalty and Bonuses
Do not forget to reward your customers and give them points and offer discounts. The more perks they get out of their shopping experience, the more likely they're to return and bring friends and family along. 
The secret to creating incredibly loyal customers is to celebrate their purchases. 
You can play this card both with newcomers and offer them a reward for the first product they buy. At the same time, the bonus system will help you grow more trust with recurring users who did not land at your store for the first time.
Product Review Pages
Believe it or not, prices are not the only factor determining a future purchase. Nowadays, every other customer conducts thorough research before buying something. Unless it's sweet potatoes from a local Whole Foods Market. 
Why send them somewhere else to dig for reviews if they can do it without leaving your app? User reviews are an important source of insights. Oftentimes, even inspiration for those shoppers who hesitate or are at a loss what exactly to buy.
Geolocation
Let us assume you've got a few stores around a particular city or even spread your operations across multiple countries. Geolocation can help users locate stores easily, find the one on their way, and get the products they want faster. The nearest store would have more chances to make a sale as a user won't have to walk or drive another block to shop. 
Easy Payment and Checkout
The abandoned cart is not a myth. It happens for a reason. So once users added all the items they want to buy to the cart, they'd like to see the final sum to pay and how much it will cost to deliver their purchase. Don't forget to add multiple payment methods, so shoppers see they have options.
So what's the point? Do not make the user experience sophisticated at this stage: be short to the point and precise. This way, your customers won't have second thoughts and proceed with the payment. Here's the scary part. Otherwise, you might overwhelm a user and push him to change his mind.
Mobile Platform Wishlist Button
This button allows buyers to create their own groups of products although they do not have enough money, for example, to do so right now. The beauty of wishlists is multifold. On the one hand, they confirm customers' interest in certain products that they are not yet ready to purchase at that exact moment. On the other hand, such lists can be another marketing hint for you. Seeing this info, you know what to include in your next pop-up notification or discount alert.
Online Chat
In-app chat is a great way to stay connected with your customers. People are used to chatting. They use either Whatsapp or similar apps to stay in touch with friends. So why not offer this comfort and talk to them in the app? 
In fact, they say your customers are likely to buy more at your store when they feel a personal touch. Throw direct communication and live interaction in the mix, and you will have a more competitive edge over other retail players who are yet to implement the feature. 
The Future of Mobile Apps for Retail Business
Global stats are promising. As we can see, m-Commerce plays an essential role in the overall performance of online retail. Consumer spending on mobile is to grow; worldwide shoppers buying from at the comfort of their phone or tablet screens will spend 3,56 trillion USD in 2021.
The niche will continue building on the momentum against all odds. Global pandemic might be another stimulus to shift the focus from in-store experience to shopping on smartphones. 
Clearly, there are dozens of benefits of mobile apps for small retail business and large chains like Walmart or Tesco alike. Taking into account the current situation with global pandemic and the overall uncertainty, #stayathome situation post-Covid-19 might turn into a shop-at-home-more state of things. 
Consumer habits are changing, and in-store visits become fewer. Why go out if one can get anything he needs from the screen of his smartphone delivered to his doorstep. That's a tremendous opportunity for retailers to multiply sales with e-commerce apps.
Final Thoughts
If you want to create your own app to supplement a retail online store, it's better to call on an expert. At the end of the day, you do not want to deal with all the techy stuff on your own. We bet you have lots of things on your hand and are busy with the store's everyday operations. 
Frankly, it would be better to outsource those development efforts. Strictly speaking, you can always hire retail app developers to give you a helping hand. The team of subject matter experts would do the most demanding part of any endeavor. 
They will tap into your requirements, estimate the costs, and build an actual app shipping you a ready-to-use m-commerce solution. Put it another way. You will partner with a 3rd-party vendor who knows the niche inside-out and will create an app for you considering your specific needs.
At JoinSoft, we know what it takes to deliver high-quality end-to-end projects. Our team offers clients the solutions they really need. We can help you take off with your startup or scale an existing business. If you want to learn how, drop us a line to discuss the details.