The number of mobile users is now greater than ever. Studies show that 70% of all Americans own smartphones and 50% have tablets. These devices account for 71% of the country's digital traffic. Other developed nations do not lag behind and even beat those figures: 75% of Mexico's internet usage is mobile while  it is 71% of China's and 67% of Spain's.
The world is not going digital. It has already come to the point when every day  547,200 websites are created globally. Today, the Internet is home to roughly 1,1 billion websites compared to 2,2 and 1,8 million mobile apps in Google Play Store and App Store accordingly. Perhaps unsurprisingly, 88% of mobile time is spent on apps. Thus, today is the best possible time to plunge into this emerging niche of mobile applications.
If you are thinking of having a mobile app developed for you, keep reading and find a comprehensive analysis of the pros and cons of mobile apps for business.
Advantages of Using Mobile Apps for Business
Push notifications
Mobile notifications drive 9.6x more users to make in-app purchases. Additionally, customers who receive push notifications spend 16% more time in an app than those who do not receive any phone notifications.
Push notifications are a new channel of communication with a client. Furthermore, they  deliver the desired message even when an application itself is not active, and the screen is locked. No other channel can boast to be an attention grabber but push ones because:
emails are easily missed in the mailbox (I have about 2000 unread emails);
push notifications in the browser are shown only to those who subscribed to them and only when the browser is open;
messengers do not target the audience as wide as push notifications do: everyone prefers a specific messenger.
Moreover, push notifications allow for flexible segmentation. With even minimal information about a user, you can create effective push campaigns to reach the right people at the right time.
These are the examples of winning push notifications by a digital innovation agency Alite:
Whether you are in a retail or travel business, or maybe you provide video streaming services, relevant push notifications do a good job. Important: be creative and don't spam too much.
Mobile Apps are Faster
Apps are typically 1.5x faster than websites on mobile. A user doesn't have to open a web browser, search for the necessary website, and wait for it to load. Instead, a couple of clicks are enough to complete the action using a mobile app.
Mobile apps store their data on a user's device; thus, data retrieval happens almost inistantly. For this same reason, it is possible to use an app even offline. Mobile applications eliminate barriers to access. Considering that lots of us use our phones almost 24/7, it is difficult to imagine a better way to connect with a client.
Benefits for the Brand
In many ways mobile applications significantly help strengthen your brand's image. For example:
Working like a billboard sign they raise awareness and enhance visibility. You choose what message you want to convey and how you want people to perceive your brand.
Mobile apps build loyalty. Keeping in touch with your clients, by effectively managing requests or issues through the helpdesk, for example, you set up the ground for a lasting relationship between you and your clients.
Mobile apps are the first to inform users about sales, new promotions, and loyalty programs. For instance, you own a winery and noticed that some of your customers prefer white wine, which is on sale now? Suggest they should check it at your wine shop. This could be a pretty good deal.
Mobile applications help you learn more about your clients. Add an optionto create an account in your app. It's almost like moving in with your partner, when you share the space and learn things about each other.
Feedback from Customers
With a mobile app, you can connect with your customers and pinpoint their needs better. Customers' feedback is precious to any business. Based on demographic information, purchase history, location of customers together with their reviews, companies can evolve to provide better goods and services. Thus, it helps build stronger ties  and make sure they become your brand fans.
Security
Mobile apps go through a strict approval system by an app store. This ensures that customers' data is are protected, and their smartphones are less susceptible to any malware or virus.
App-store and In-app Search
An app store may be used as an additional channel for finding clients. Provided that many businesses are only starting with app stores, while many of them haven't at all yet, now it's easier than ever to be noticed by potential clientele.
Make sure to have an eye-catching icon and a detailed appealing description to stand out. In addition, don't forget to work on your ratings and reviews. These aspects add a lot to an application credibility.
Increased revenue
High revenue is the main goal of any business. A mobile application is an additional source of traffic and, therefore, money. According to YCLIENTS, customers tend to sign up for the services through the app 26% more often than offline.
Customers who signed up for the first time through a mobile application are additional free clients since applications in the AppStore and PlayMarket are lead generators and attract customers without additional investment in advertising.
Additionally, people tend to view 4.2x more products per session within apps, compared to mobile sites. Apps also show 3x higher conversion rates compared to mobile sites and even 1,5x more conversions per session than via desktop.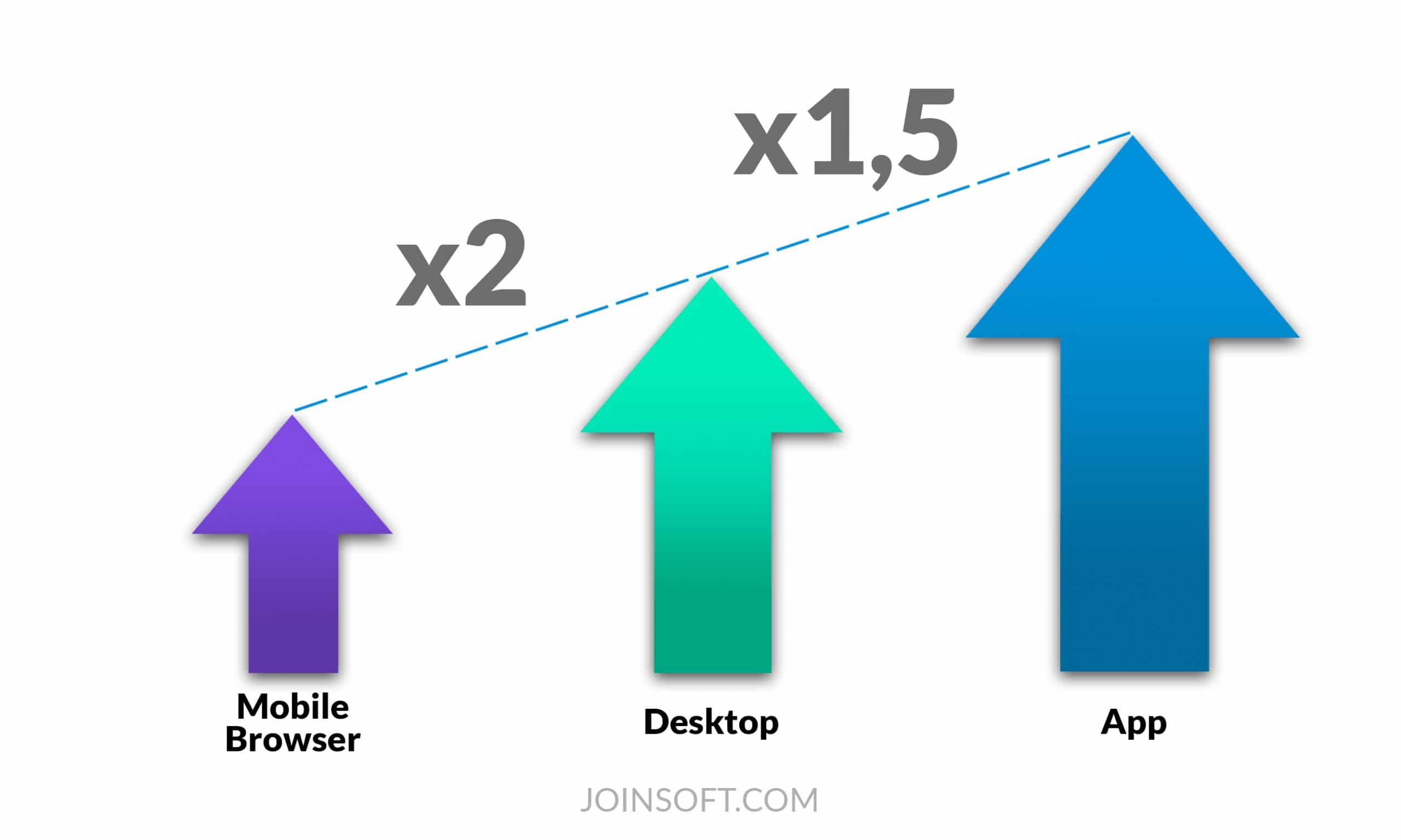 Developing a mobile app is a compelling decision for your business. However, before placing an order with an app development agency it is worth considering the opposite side of the 'coin'.
Disadvantages of Mobile Apps for Business
Customers Impatience
This point corresponds with a brand reputation a lot. Poor user interface and experience, bugs, and other shortcomings negatively contribute to the perception of the brand. Consequently, before launching an app make sure everything is in perfect order.
More marketing
Adding a new channel to your marketing pool requires allocating additional funds on promotion. Also, effective promotion is regular promotion, so be ready to handle these costs on a monthly basis. Besides, coming up with a marketing strategy requires a lot of time and effort.
Price
Developing a mobile app takes a lot more money and time than developing a website. You will need to develop different versions of your app for different app stores, with iOS and Android being absolutely essential.
Unlike web development, you typically need to hire a separate team to develop mobile apps for different platforms.
It is a long-term investment. If you don't want to simply waste money, your application has to be necessary, useful, interesting, easy to navigate, and, preferably, free. This is the type of applications that users love.
Development process
The complexity comes as an 'add-on feature' of the development process. Working on a mobile app may be challenging in the following ways:
Poor quality phones. Sometimes the application may "crash" because of hardware problems.
A wide variety of screens. To solve the problem of different ratios you can't just take and stretch the application's interface. Developers have to support several types of screens and design different copies.
Several versions of the operating system. iOS is updated annually, and older versions are not supported. This is not the case with Android. Google cannot update the system on all devices – vendors do it. As a result, several versions of Android turn out to be relevant at the same time. Not all manufacturers update their devices promptly, while some don't do it at all.
To cut a long story short, the whole process is very peculiar. Both sides, you and your developer, will have to work hard today to play hard tomorrow.
Constant maintenance
After months past mobile app development, the product is up and running on app stores. However, the hustle goes on. Without quality maintenance, your app will start losing users and ranking positions.
Some of the things to keep track of are:
Hardware. Old app versions may not work on older devices as they were intended.
Operating system. As already stated above Android is especially vulnerable in this regard. Apps need to be updated and compatible with newer versions of operating systems.
Security. Special attention should be focused on eliminating security loops.
Infrastructure.  Once the host infrastructure changes you will have to update the app…
The list goes on… But it's absolutely essential.
What You Need to Know Before Creating a Mobile App for Business
Alright, here you are, having weighed all the pros and cons, ready to look for a nice developer to create an app for your business. Don't hurry, take your time and tick those 8 points off.
Conduct a thorough market research
This step will help you stand out with your app by filling the possible gaps your competitors haven't noticed yet.
Find out:
Who are your competitors?
What strategy are they deploying?
What are their strengths and weaknesses?
What is something you can offer that they cannot?
 Define your target audience
Ask yourself a question: who is the hero of my story? Hint: it's not you.
Define:
Who is the avatar you serve?
What are his/her pain points?
How will he/she benefit from the app?
Determine your monetization channels
Before you start developing an application, you need to decide how you will make money from it. The main ways to monetize apps are:
Free application. Typically used by large companies, the app is a complementary tool to sell their products or services.
Free app with ads. Used in popular applications that actively interact with the user.
Paid application. The most popular and profitable type of monetization. Apple, for instance, charges a 30% commission on every sale of the app.
Lite and Pro. Lite application is free, but with limited functionality. Purchasing the Pro version unlocks more functions.
In-app purchases. You can sell new features or new game levels directly from the app.
Determine the development cost (make sure to include maintenance expenditures)
The costs depend on features, intricacy, platform and vary from market to market.
Application development costs in India, Pakistan, and other Asian countries are typically less than $30/hour. In South America, which is considered another popular outsourcing destination, rates range from Western European to Eastern European.
US vendors charge the highest development costs with rates ranging from $120 to $170. Eastern Europe, in particular Ukraine, will offer you a more moderate app development cost of around $40. It is very smart to choose this region, since you end up with a quality product at a reasonable price.
Know your promo budget
Define your budget threshold for the initial promotion. It's not a secret that the success of any commercial project largely relies on good advertising. You don't have to invest all your money in promotion. Instead, knowing your limits allows you to define the best available marketing channels.
Choose the right development company
Consider the price/quality ratio carefully. While your responsibility is to determine and convey your request, the development company's part is to make it real.
Find out if your values and vision coincide, and if you are comfortable working with the team. There's a huge amount of work ahead, which requires diligent action and close cooperation from and between both sides.
At JoinSoft we conduct a thorough project assessment before the development starts. We aim to build high-quality products while minimizing costs.
Planning of a Mobile App for your Business
You want your app to meet the needs of your target audience. You want it to be functional and user-friendly. What are the features of a successful mobile application? Here you have them:
As Simple as That
If the application is too complex, the user may not waste their time on figuring out which button he/she has to press and choose your competitor's service instead. It's a top priority to make your application simple. Simple, uncluttered applications with clear user paths will improve the user experience and encourage them to take the desired action.
No Time to Wait
The high speed of the application is just a necessity. Nobody wants to wait until the screen loads. The sooner it loads, the sooner you sell.
Push, Push, Push!
Various loyalty programs, push notifications about promotions and discounts motivate customers to buy goods and services and increase their retention. This is the cheapest advertisement.
I Know Where You Are
Geolocation is a powerful tool you definitely should consider. If you are in a restaurant business, for example, you can target the users who find themselves in a nearby location and send a notification inviting them to lunch.
Security Is Key
In the modern world where Internet security is a big issue making your application, a safe space is an absolute must. This is important as you want to create a positive image of your brand and make your clients come back.
Say Something
Provide users with the feedback option. Not only it increases your credibility and shows that you care, but it is an invaluable assessment of the quality of your app. Nobody knows your users better than your users themselves.
Keeping Up with the…?
Be modern, make quality improvements and add new features regularly. Following the evolution of your business, your customers grow with you. Frequent updates also help keep your ratings up. It is reciprocal – you provide value to the users, and they provide value to you.
No Access No Gain
Offline functionality is another great feature. Depending on your business, it's nice to provide your users with the possibility to use your app without an Internet connection. Life is life, and sometimes we lose connection, but your app should always be in touch.
 It's a Bargain!
Make your application sell. Provide your users with the possibility to pay for the goods or services right where they see them. Shopping cart abandonment rates on mobile sites are way higher than on desktop ones, driving the global abandonment rate up to 73.4%. It often happens because customers are annoyed to fill out their credentials during checkout, especially when they do the shopping regularly. Mobile apps save user data and eliminate this issue.
This is a starter pack of the features for your app to launch successfully. The rest is all about the quality of execution.
Businesses That Can Benefit from Mobile Apps
There are businesses for which having a mobile app is a necessity. For example:
Food Delivery / Restaurants and Cafes
It's convenient for the client to enter the address and card details once, and then, when making the next orders, simply choose the dishes and press the order button. For the delivery service, this is a great opportunity to 'tie' customers to their app, increase the average check and the number of requests due to personal discounts and special offers for users of the application. Especially now when the pandemic has turned ordering food online from occasional to regular, more and more restaurants and food markets choose a mobile app as a solution for their business.
Stores
Mobile apps for stores allow customers to quickly order goods from catalogs, access exclusive content, and be the first to know about new products and discounts. This is a great way to increase the number of spontaneous purchases and attract new customers to your brand.
Travel Companies
As for the travel business, a mobile application is a must. It allows customers to quickly book a ticket or hotel and save money and time. This increases ticket sales since the convenience of buying a ticket from home instead of to the ticket office and standing in a line is doing its job.
Taxi
Do you remember the last time you ordered a cab by phone? No? Us either. A few seconds is enough to place an order. You can pay with a card and track the location of the driver – super easy and super convenient!
Gyms / Personal Trainers Services
Find out the training schedule, book a session with your trainer, save by using the loyalty program – this is a tiny part of what an app can allow users to do. Sports clubs can provide users with free content of exercise videos and helpful nutritional tips.
Beauty Services
Nail or hair salons, aesthetic medicine centers also benefit from mobile apps. Booking an appointment with specialists, viewing interactive price lists, getting information about services is much easier using an app. Besides, a mobile app increases the number of loyal customers.
In fact, any service business can benefit from using a mobile app. The advantages of using mobile apps for business are difficult to overestimate.
How to Understand that a Business Needs a Mobile App
Developing a mobile application for your business is a substantial investment. To understand if you really need it, ask yourself the following questions:
Am I looking for a way to automate the business processes?
If you want to increase the productivity of your employees, improve the workflow or increase profits, make a mobile application that automates business processes. This is one of the biggest perks of having an app developed – it can help manage complex documentation, work with the personnel, do accounting, ensure effective CRM, and many more.
Is my website frequently visited from smartphones?
A mobile app is a useful and convenient tool to interact with your brand. Users spend 20x more time on a mobile app than on a mobile-friendly website. The longer the user stays with you, the more opportunities you have to engage them and lead to a desired action.
The conversion rate in applications is more than 3x higher than in mobile browsers.
In addition, apps generate 47% of all mobile sales for retailers who have both a mobile site and an app.
Do my clients come back?
Mobile apps significantly increase the retention rate. Firstly, because you provide users with a solution that makes shopping easier and a more pleasant experience. Secondly, you can employ various marketing activities, such as loyalty programs, personalized discounts, etc., and make use of an instant connection with the users through push notifications.
Will the app help deal with my clients' pain points?
Think about how your clients will benefit from your app. For example, a client of a medical center can have all information about past and upcoming appointments, prescriptions, diagnoses gathered in the app, instead of keeping that on paper.
Does my business have a loyalty system?
If you offer your customers a loyalty system, the application will allow you to forget about plastic cards. You will not need to spend money on design and production, and customers will not need to carry plastic with them. Integrate the loyalty program into the mobile application and share useful promotions, discounts, and bonuses electronically.
Unlike a plastic card, an application communicates with customers. It gathers information about your customer which you can later use to make personalized offers.
Do my competitors have a mobile app?
A mobile app is a solid competitive advantage. Research the market and define your competitors' gaps. Create a better mobile solution.
Done with the questions? If your "yes"-es overweight the "no"-s, then you should seriously consider developing a mobile app.
However, not all businesses need a mobile app.
When a Business does Not Need to Create a Mobile App Yet
Of course, having a mobile app isn't a universal remedy. Here are some of the cases when it's not worth having an app developed:
If you own a small corner shop, then you probably don't need a mobile app. Measure your audience, their demographics, needs, and capabilities. In case of a small local company, the money you invested into an app will most likely exceed the return.
You don't need an app yet if you have a tight budget. Mobile app development and maintenance is a fairly expensive service. No hurry here, it's always better to wait for the right moment, than waste money on an unreasonable fad.
If you don't have a team of tech specialists, you will not be able to maintain the app at a later time.
Alright, that's been quite a lot of information. You've found out the reasons why you should have a mobile business application. Or maybe why you shouldn't.
If, after all, you think that developing a mobile app is the right thing for your business, the next important step is to choose the right developer.
Advantages of Mobile Apps for Your Business by Joinsoft
At JoinSoft we take it personally. Our clients are the heroes of our story. We use a personalized approach to each client, perform a professional project assessment and suggest the best approach that works for your business. We are honest. We deliver what we promise.
We are constant learners, and we believe that there's always room for improvement. Each of our specialists has over 5 years of experience building apps for Android and iOS systems. Our team is our most valuable asset.
We use the most advanced technologies to ensure that your app runs smoothly on the latest OS versions. But we also provide backward compatibility so that your app could be used with older Android and iOS versions. We make sure that you get the best quality project at a fair price.
JoinSoft can help you boost your business by developing a quality mobile app. Enable your team and customers to do their business on the go in just a couple of clicks. Follow the link to learn more about our mobile app development services
Pros and Cons of Mobile Apps for Business
So, now that you've read till the very end you know what the pros and cons of mobile apps for business are:
PROS
CONS
Push notifications

Speed 

Benefits for the brand

Feedback from customers

Security

App-store & In-store search

Increased revenue

Customers impatience

Additional marketing

Price

Complex development process

Constant maintenance
You've also learned what you need to know before you dive into the development process, what features a successful app should have; and, most importantly, you know how to understand that a business needs an app.
The advantages are compelling, but they are not universal. Be objective when assessing your business and don't follow the trends blindly. Having a relevant mobile app creates a huge additional cash flow; on the other hand, it is quite a substantial long-term investment. Take your time to consider both sides.
The JoinSoft team is looking forward to welcoming new projects on board.