Like the entire Internet industry, e-Commerce is evolving rapidly. Modern sites are not what they were years ago. Today, they have a new look, upgraded functions, and a grown number of visitors. In such a competitive environment, it becomes more challenging to stand out from the crowd. Just a beautiful design does not work. Your site should be more catchy and user-friendly than competing ones. To achieve this, you need to rely on a smart UX strategy. It will help you understand your customer needs and match them perfectly. With customer loyalty, you can use more opportunities to grow your business. If this is what you need, land here. In this post, we will see how to make a great UX design for an e-commerce website.
What is e-Commerce UX?
First, let us understand what the UX is. In a broad sense, it is the user's perception and response to interacting with a product, system, or service. The user experience includes all emotions and feelings a person gets during and after dealing with the system. The above is right for UX design for e-commerce too. Once on your site, users will discover how helpful, convenient, and enjoyable it is.
Let us draw an analogy with an offline store. Imagine that you need to buy a T-shirt, but all the things are stacked randomly — no sorting by category, season, or gender. To find the necessary item, you decide to ask a consultant, yet, there is no one around. When you eventually find them, it turns out they are busy chatting with friends or drinking tea. In this situation, you are unlikely to buy a thing. Also, there is a tiny chance you will ever return to the store.
Coming back to our online shop, make it clear that, first of all, the website must be user-friendly. Even if the user is here for the first time, he should quickly find what he needs, ask for help, and get advice. If you can arrange it, both the customer and you will benefit because client loyalty is directly proportional to your business profitability.
The Role and Importance of UX Design for e-Commerce
The eCommerce site is an incredibly powerful tool. It can make a fortune for its owner or, conversely, ruin the business. According to Amazon, 88% of online shoppers are less likely to get back to a website after a poor experience. So, not to lose clients, you should focus on the website's internal structure as well as its overall appearance. Think of your online store as a complex mechanism that should be easy-to use. To get the most out of it, take time and optimize UX design for e-commerce. Such an approach will help you solve urgent business problems and strengthen the company's reputation.
Need a step-by-step guide on how to improve user experience on your site? Don't hesitate to get in touch.
Here is how you are going to benefit from improving user experience.
Higher conversion rates. An effective design can not only draw bystanders' attention but turn visitors into active users: as a result, you will have more clicks and sales. Besides, a great UX promotes social media shares and email signups, thus, growing overall brand loyalty.
Bigger purchase value. When users have added products to the shopping cart, you can offer them similar or related items. Well-presented and beautifully designed things can spark customer interest and push to further buying.
Greater purchase frequency. Classy design acts just like a magnet. After having a good experience once, a person wants to come back again and again. When they are in the store, it's half the battle. Next, there is one little thing left – to offer a relevant product and attractive terms of purchase.
Longer retention period. To retain customers, you should give them more than they expect. And here, the stellar design comes to the rescue. While different merchants may sell the same T-shirt, you can offer pics of higher quality, more detailed descriptions, and special filters for easy navigation.
Better data protection. eCommerce UX design is not a luxury but a necessity. Designers are responsible for the authorization form, card data entry, and other touchpoints with sensitive data. A smart approach to their realization will protect users and build trust in your brand.
How you can benefit from great eCommerce UX
6 Tips on How to Improve Your e-Commerce User Experience
When somebody is searching for products on the Internet, especially on a mobile device, he usually sorts out several websites before making a purchase: either the page does not load, or the checkout process is inconvenient, or the product description is incomplete. Often the customer has to close that website and look for a similar item on another one. No doubt, the customer wants a smooth experience without feeling annoyed.
Let us look at the steps you need to take to avoid incomplete purchases.
Prioritize functionality
Have you ever visited a website with parallax scrolling, transparent buttons, or video background? If yes, you may agree all these elements may look too complicated. They slow down the website's loading and distract from the main goal – to find the right thing. "But what about creativity?" you might say. Well, in this case, it may lie in simplicity. The designer's task is to give maximum information with minimum distracting elements. Of course, the trade dress matters, but first of all, the site must be operative and useful. Look at Amazon or eBay. Their web pages are not the most creative in terms of design. But they have thousands of visitors daily. Why? The reason is simple: they give a highly functional eCommerce UX design with no visual frills.
eBay provides smooth UX with easy and intuitive design
Personalize offers
Today, the number of online stores is growing at an exponential rate. Modern shoppers have an unlimited number of options and quickly replace a salespoint if they cannot find what they need. Internet sites offer products for every taste and budget; so, personalization may be your key to success. To use it wisely, study your clients' preferences and advise on the things they might like. For instance, you can place the suggested items into the notification called "Customers who bought this item also bought …" Besides, you can use upsell and cross-sell techniques. The former implies offering similar products at a higher price and the latter – related items that complement the products in the shopping cart.
Related items on Bebe site
Provide easy navigation
Easy navigation means visitors can do what they want to do on the website without much effort or interruption. It sounds simple, yet, many sites lack this simplicity. Navigation, of course, is vital in helping users find the products they are looking for or would like to buy. How to make it intuitive? Here are the UX best practices for e-commerce.
Highlight parent categories

Properly arrange subcategories

Place new arrivals into a separate category.

Add a prominent search bar

Stick to traditional design techniques
For example, the latter point means placing a shopping cart in the top right corner and the main menu under the search bar at the top or on the page's left side.
Easy navigation at Chewy website
Enable a straightforward checkout process
Include only essential points in the checkout process and remove all useless details. Be careful. The above doesn't mean staffing all the steps on one screen but involves using the following practices:
No repetitive questions.

Don't bother users with filling up the same data again and again. Store the necessary information (according to GDPA

rules, of course) and speed up the checkout procedure.

Multiple signup options.

Allow login with Facebook, Gmail, or any other existing account.

Easy guest checkout.

Remember, many people would rather leave the site than share personal information.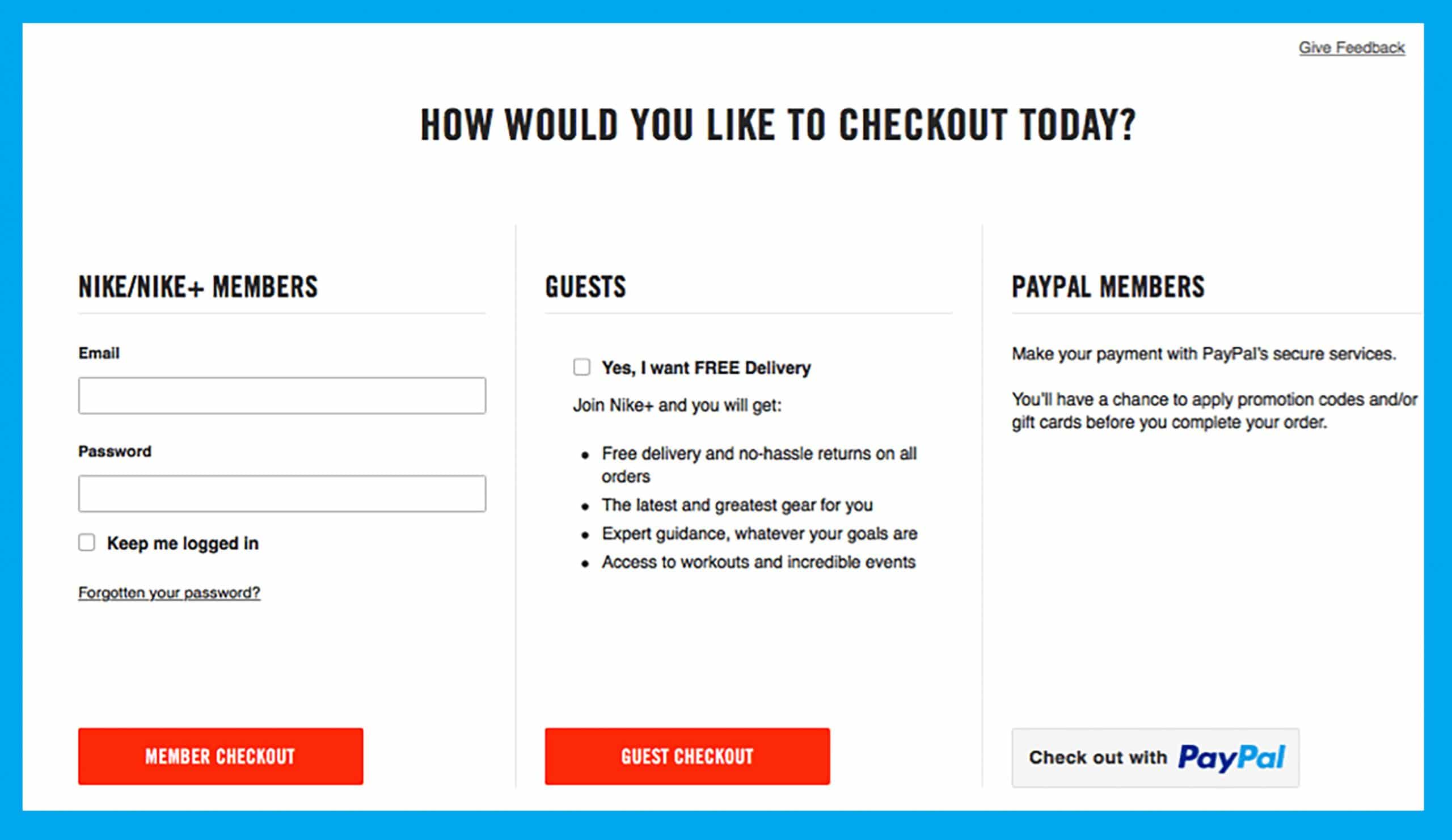 Nike provides various checkout options
Implement a wishlist
Sometimes people are not always ready to make a purchase right away, keep it in mind. Some wait for the paycheck, others study competitors' websites, and still others hope for friend's advice. If they have the opportunity to save the items they like into a wishlist, they can quickly return to your website and view them again. Without this feature, users will have to flip through the catalog again. The big chances are they will get annoyed shortly and spend their money elsewhere. Another advantage of a wishlist is that you can further use it for targeted advertising to return customers to your website and close the deal.
Wishlist at the Mage Suite site
Go mobile
In 2020, the number of mobile phone users reached 4,78bn people. Tech-savvy users do all possible things on the go: chat, read, flirt, study, and, of course, shop. In the digital age, it is impossible to imagine an eCommerce website without a smooth mobile experience. If you are just stepping on the online business path, consider the usage of the mobile-first principle. The latter assumes initial design development for a mobile device and only then for a desktop. If you have already had a working website, be sure to optimize it for mobile. Otherwise, you risk losing the lion's share of customers and ruining your reputation.
Jysk provides seamless mobile experience
Future Trends of UX Design for e-Commerce
Once you have launched your online store that sells and receives positive reviews, you shouldn't stop. Internet technologies are constantly evolving and changing. If you intend your business to stay afloat, you need to keep up with modern tech trends and work on UX improvements for eCommerce websites.
Either you want to launch a new website or optimize the existing one, smart eCommerce design will help you establish smooth UX and retain customers. Contact us to get recommendations that are 100% tied to your business needs.
The growth prospects will depend on business issues such as product type, sales volumes, target audience, etc. For example, beauty shops may think of augmented reality to let users try on lipstick or hair dye. Food stores should work towards super fast delivery, regardless of the location of the client.
Other trends that are relevant to every store include the following:
high page load speed

fast payment methods

ability to share on social media

synchronization across all devices

extra services: gifts, discounts, etc.

constant interface evolution
Afterword
Pleasant user experience is a magic wand that will keep your clients coming back. It may turn first-comers into regular visitors and boost business opportunities to new heights. By working on eCommerce UX design, you show concern for customers and provide them with a delightful journey across your website. In return, they give their loyalty and grow trust in your brand. If you want to launch a new eCommerce website or polish the existing one, reach out. We'll be happy to translate our expertise into your successful e-commerce store.